Elsie's Recipe Box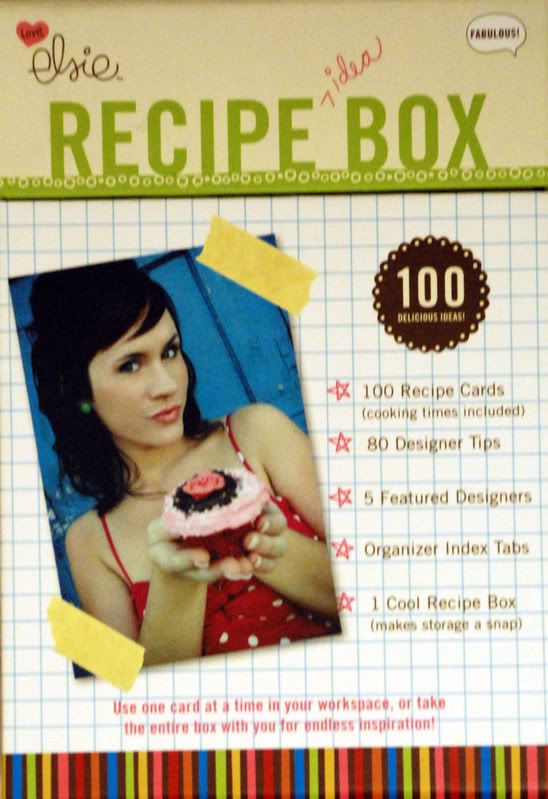 I cannot tell you how excited I was to get this book. I bought it as soon as it started shipping! I adored the Elsie's 52 Challenges book – adored it!!


So I ordered it and waited with anticipation for it to come. When I received it, I ripped the box open and dug in. I have to tell you ladies – I was sorely disappointed. The concept is incredibly cool. A box of recipe cards – laminated and sturdy with the layout on one side – the "cooking time" give you an idea of how long the layout will take.



You flip that bad boy over and there you see – the Ingredients (a list of items used on the layout), the Recipe (step by step directions), and a Designer Tip from the artist that created the layout. Surely a winning combination – clever idea – how could you not just LOVE LOVE LOVE it???

I wanted to love it – I really did. I even put it down for weeks and tried to pick it up again right before I wrote the review to see if it was my mind set the day I received it (could have been PMS!) Nope – still was quite disappointed. I have not even flipped through all of the cards.




My disappointment stems from the layouts themselves. I am a self certified Elsie-a-holic. I have every piece of every line she put out (including the Hobby Lobby exclusives) until the Winter CHA. I am afraid I reached my limit of the same design in different colors and slightly different themed doodles. The layouts – each and every one of them use Elsie paper or KI memories paper. The styles are all identical.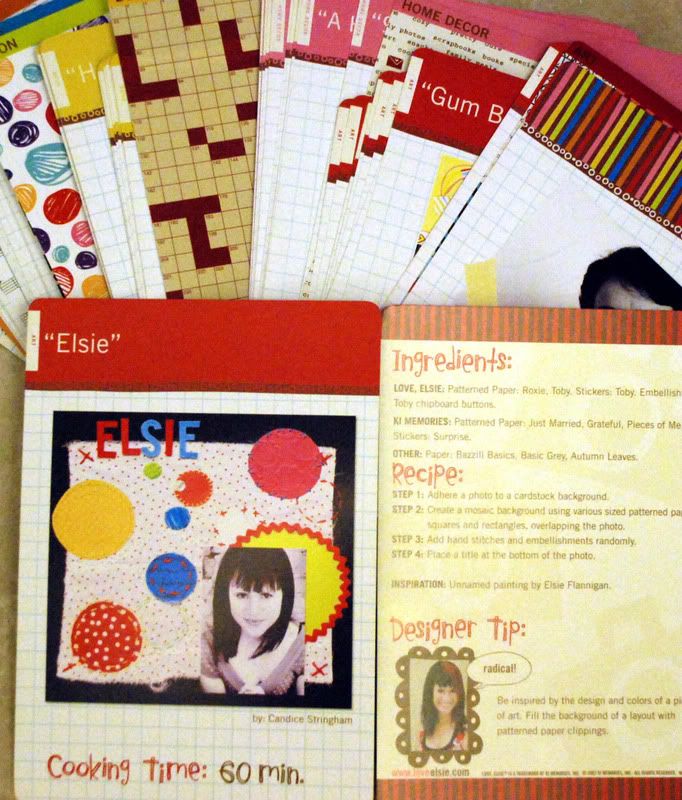 A big contributing artist is Amber Skolnick (another one I adore). All of the work had the juvenile style. I like a bit of that – but since almost every card I looked at was that style – I quickly tired of it.

Again – I am a self proclaimed LIFTER as well – nothing inspired me to even noodge it, let alone flat out lift it. Again – the idea is ALL KINDS of GOOD! The execution is where I was extremely disappointed.

Overall Rating: 3 stars
I give the book 3 stars based purely on the concept of the book - it is phenomenal! I think improvement could be made in execution. While I love the concept and I love Elsie's designs, because the patterns and her style are both so specific, I would like to see them offer a product that mixed things up a bit in one of the two areas. Either show a different style using the papers, or incoporate other lines that we don't expect to see done Elsie-style.

If you have the book – I welcome your opinions. While I will always tell you what I truly think, I'm also eager to hear your true thoughts.

Lisa